Things to Consider When Selecting a Kitchen Countertop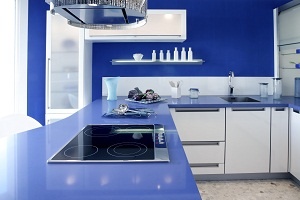 Remodeling a kitchen can be an exciting process. With a few simple changes to the basic features of the room, like cabinetry, wall color, and countertops, you can dramatically improve your kitchen from a boring and outdated room to the perfect space for entertaining and preparing chef-quality meals.
One of the most important choices you'll make during the custom home remodeling process is selecting your kitchen countertops. Countertops affect your experience in your kitchen every day, contributing to its overall appearance, how you prepare and serve food, and more.
Experts in custom kitchen remodeling in Spokane, WA, recommend you consider these 3 factors before you select a countertop material.
Appearance
Nearly every type of countertop you select will have a drastically different appearance from any other material on the market. In fact, the countertops draw the eye more than possibly any other surface in the room besides the cabinetry, so you should give the look of a given material serious thought. For instance, consider the unique glimmer and beauty of different stone materials, like marble, granite, and quartzite. Also consider the more traditional appearance of ceramic tile or contemporary options like concrete.
Durability
Different materials have their various strengths and weaknesses. For instance, while granite is resistant to heavy objects and can handle contact with cold, it is vulnerable to warping if exposed to high heat. Quartz, meanwhile, can handle high heat but is vulnerable to stains from acidic foods like citrus juice and wine. Laminate countertops are not very durable at all.
Price
Countertops materials vary drastically in price, with synthetic materials like ceramic and laminate being among the cheapest, and natural stone like quartz and imported marble being the heftiest in price. If you're working on custom bathroom remodeling as well as kitchen improvements, and want to apply new countertops in several rooms, you should take care to avoid blowing your budget on a single material.
Give consideration to these 3 factors before you remodel your kitchen. Then, discuss your goals with contractors who specialize in custom kitchen remodeling in Spokane, WA. Their experience with improving kitchens can help you arrive at the best design decision for your tastes, lifestyle, and budget.